IJF Judogi Standards and Clothing Regulations(New Standard for Red Labels)
Judogi are manufactured according to the following standards, certified by the IJF (International Judo Federation) and have the IJF red label mark on the right. It can be worn at the Olympic Games and other international competitions.

Various standards and dress rules
Judogi Control Procedures
・The judogi sleeves must cover up the full arm including the wrist bone (head of the ulna). (Figure 1)
・The "skirt" must cover the buttocks completely. (plus 5cm to 10cm)
・The distance between the sternum top and the lapel crossing point of the jacket vertically must be less than 10cm. (Figure 2)
・The distance of the crossing points of the jacket, at belt level, must be at least 25cm. (Figure 3)
・The belt should be worn just above the hip bone and be tied tightly.
・The width must be between 10 and 15cm at the knee level. (Figure 4)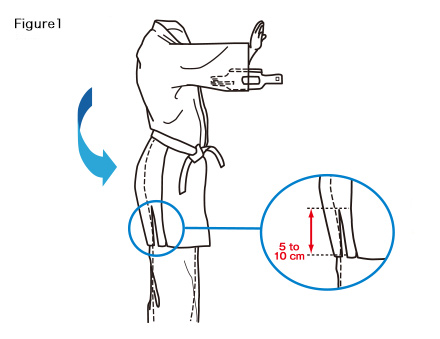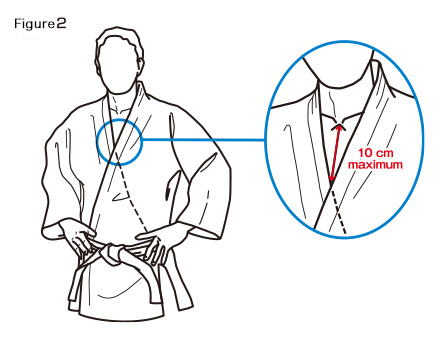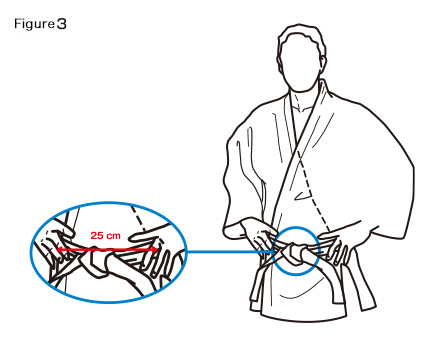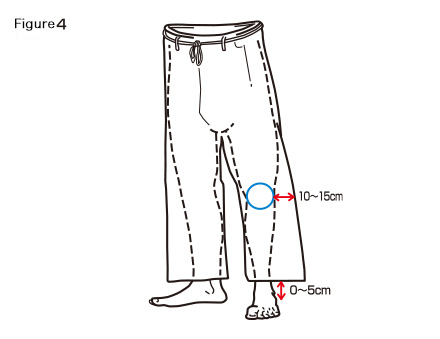 Specification features (main part)
1. Cotton blending rate should be 70% or more. For materials other than cotton (30% or less), the use of synthetic fibers is permitted.
2. The tensile strength of the sashiko cloth (jacket upper part) must be 2,200 N or more and the weight per square meter must be between 650 g to 750 g. Moreover allowance of +/-5% is allowed.
3. The weave of the fabric is based on the regulations.
4. The width of the collar is up to 4cm, and the collar is stitched with 4 stripes. The inner core material is as specified. A 10kg weight is placed 5cm from the bending position, and the maximum height is within 3.5cm.
5. White Judogi is white or a color close to white. Blue Judogi must be in the specified pantone color.