Technologie
Le meilleur vêtement à porter.
Judogi (Kimono) totalement faits main.
KUSAKURA's Judogi production is fully integrated to the manufacturing line cloth fabric. For each step of the process, any of our technicians can fully respond to the customer needs, thinking of the best for the customer by making use of its ingenuity and technique.
Craftsman's work
Woven fabric

As Judogi are directly in contact with the body. While pursuing this criterion of comfort and soft touch, we are trying to find to perfect equilibrium between weight, strength... from the composition of the material. And that how we created our fabric the "NaiJuGaigo" literally meaning: tough on the outside but soft at heart.

Staining

We surprise the world with the cleanliness of our White and Blue color dyeing Judogi. When we dye our Judogi, we take care of not impairing the softness of the fabric, which is its principal asset.

Cutting

From the slimmest to the widest size. We are able to cut our Judogi as they can fit to any body.

Sewing

In order to make to collar as soft as possible, we change the width of sewing to 1mm.
We can not do it by just cutting, such as a shoulder line that is not weighted, we are sewing sophisticatedly.

Checking

We have a room specially dedicated on the checking of our product to ensure the high quality.
Based on the standards, each measure is strictly made thorough the checking to make certain that there are no defects in the product are carried out.

Embroidery

After the checking step, according to our customers choice, we can embroider their name, Dojo name or even logo.
We have a large number of embroidery machine at disposal so we can quickly respond to our customers' requests.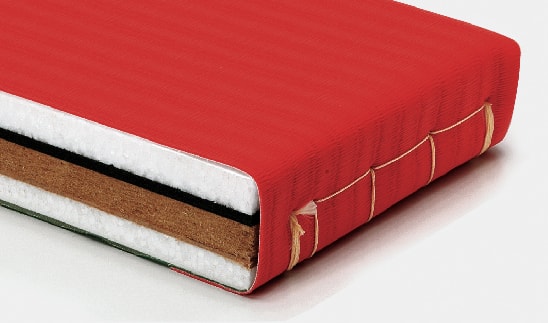 Manufactured judo tatami mats certified by the All Japan Judo Federation.
Contrary to overseas Tatami that are often composed by a single material, our Tatami are made from multiple materials.
A multi-layer Tatami is considered as excellent for the shock dispersion, and perfect for safely fall on them.
All Judo-related goods.
We have got frequently asked about this kind of products for the last 100 years. We developed a lot of related products after hearing our customers voices.
Today, it covers all the equipment necessary for tournament setting from permanent facilities for judo to small gift.